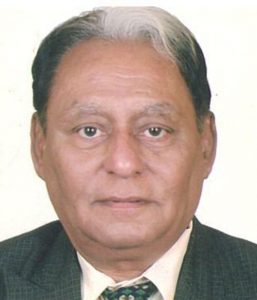 Brief Profile
Director and maker Rajni Acharya is now ready to release India's first musical Lifeography film in Gujarati "Sur Shabdnu Sarnamu" on legendary Music Director Avinash Vyas, famous Gujarati music director and lyricist.
This research based film took 4 years to make, which has 30 celebrities from Gujarati music industry who reveal lots of unknown, untold information on Late Padma Shree Avinash Vyas. This Film has 30 super-hit composed by him. At the same time many film personalities like Asha Bhosle, Usha Mangeshkar, Praful Dave, Purshottam Upadhyay and many more specially sung during the talk of this film. Pujiya Morari Bapu and Pujiya Ramesh Oza blessed this project by specially appearing in this film. 1hrs 45mins duration has got musical journey of Avinash Vyas and unknown personal information.
He has also made a Lifeography movie on the singer of Indian silver screen Late Mohammed Rafi Title "Dastaan-E-Rafi".
Docu – film on immortal talent of Mohammad Rafi-Saab, the golden-voice of Indian Play-back domain has been his 5 years passionate journey to conduct arguably the longest in-depth Research initiative Lifeography in Media-world. This Lifeography was very popular in the film festivals circuit in India and abroad, and has won numerous awards and appreciation. One more feather on the cap is, having more than 100 Privileged screening have been arranged in India and internationally and still it is in demand.
Fortunate to spend over 40 years in Creative fraternity, in multiple extraordinary and Pioneering responsibilities; as the Media industry transformed itself into glory of content expansion and Service diversification, affording career-progression of every professional in new-media domain and simultaneously enabling fulfilment of personal vision in terms of Story-telling strategy for purposeful impact over human minds!
Entertainment trade conferences have been happy hunting ground with extended from of participation with IDPA (trade-assn), RAPA (radio-body), ISKCON (Spiritualism) and involvement with ATN (1st Sat-TV Channel), Sun-TV (1st Tamil Service), CMM-Aastha (1st Religious TV), CVO-Hinduja (1st Cable TV) and ITV (1st Internet Streaming) and NGO-live-cast (1st from UN); all done as the Pioneer, for overcoming those global barriers with best Indian mindset.
Career through-put of over 1000 hours of Public-interest audio-visuals (covering Environment impact and Adolescent issues), 2000 hours of Digital Entertainment content for Satellite-TV channels, 500 hours of IPTV as 'On-demand' modules and 100 hours of Mobi-sodes Tailor crafted for Mobile – TV specialty; having successfully delivered to global markets; with appreciations from Licensed distribution affiliates, of USA & UAE for popularity has launched Takshila Multimedia Live on You-Tube.